Organize, collaborate and review documents with your team online
Quickly create documents with pre-made forms and templates
Boost productivity with automated workflows, notifications, and reporting
Running a life sciences organization involves managing hundreds of documents every day. eDOCSmanager is the answer for creating, managing and organizing these documents while staying compliant and productive.
The maintenance of Quality Management Systems is complex yet essential to compliance. Life science organizations have an obligation to provide quality assurance at every stage of development, ensuring that they stay compliant. However, effective quality control relies upon reliability and access to essential data, usually located in various silos within an organization. eDOCmanager's Quality Module helps life science companies identify and fulfill their quality tasks and obligations faster and more consistently.
Request your personal EXTEDO Software Demo now!
Assign automatic quality control workflows
The eDOCSmanager Quality Module provides everything you expect from a Quality Management System and more. Gain the power to assign automatic quality control workflows while using risk assessment tools to identify and counter threats before they happen. The solution further includes all standard document creation, review, approval, sign-off, and publishing features, as well as controlled printing for your team to make your quality control processes efficient, accurate and effective.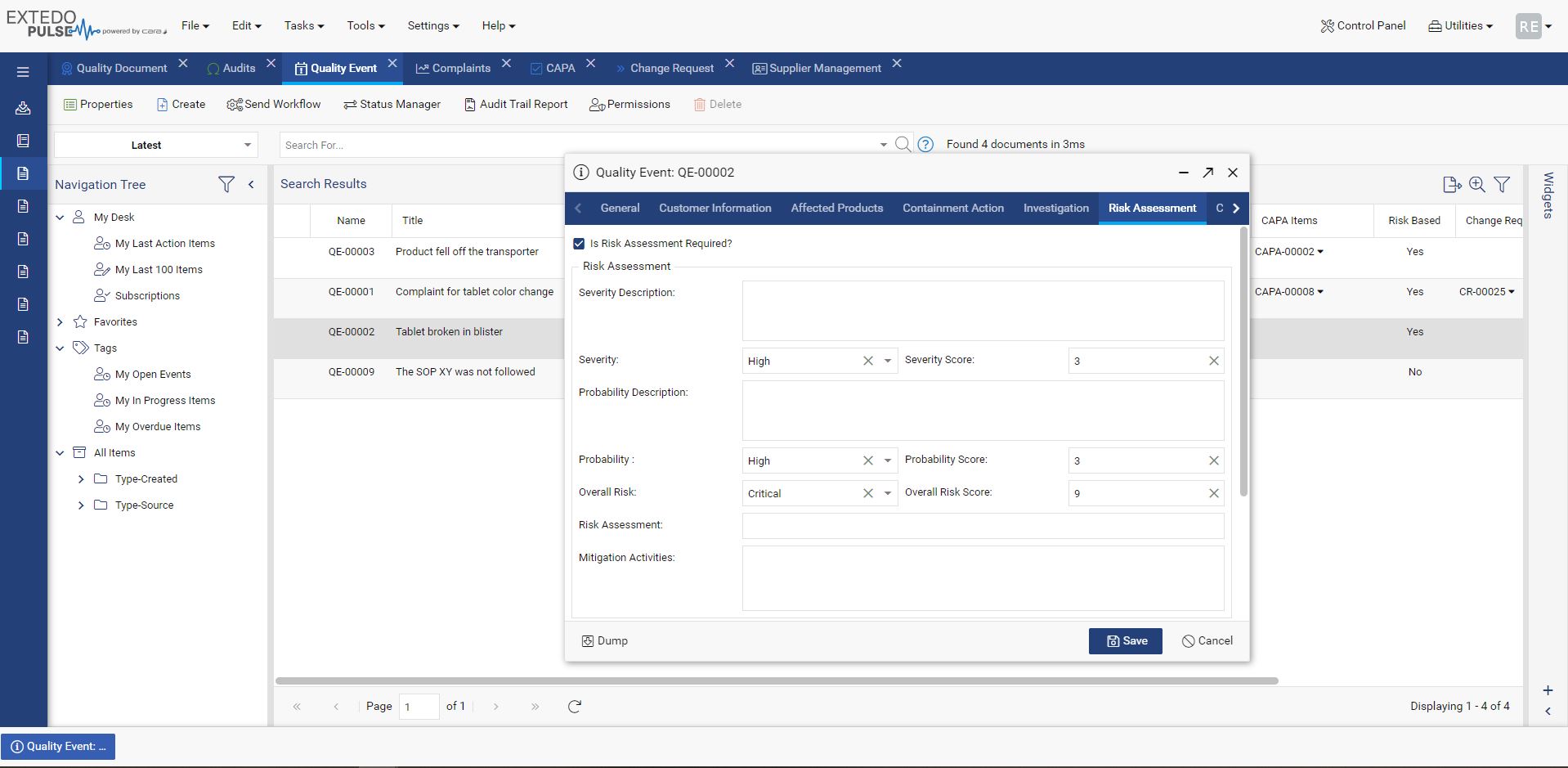 Advanced quality automation
The Quality Module within eDOCSmanager enables you to incorporate quality into your natural workflow. Easily create internal or external Quality Events for regular quality assurance checks, audits, complaint resolution, and more.
You can even create and manage CAPA items for Quality Events, including sharing with external auditors to allow them to update CAPA info directly.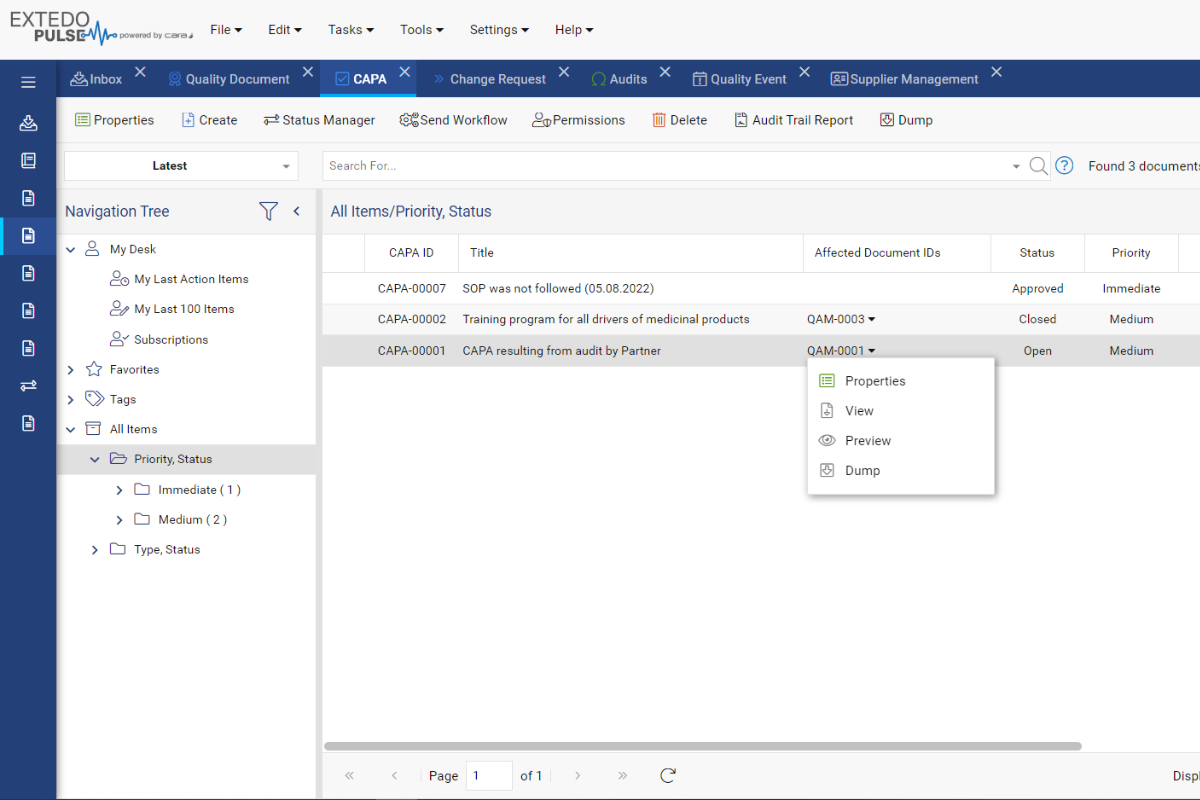 Capture and provide document training from a single, intuitive interface
Automatically manage workflows for the review, approval, and periodic review of your SOP documents. The SOP and Training Management Module enables you to capture and provide document training from a single, intuitive interface. When training efforts are performed, the module records the accomplishment and marks it as completion with certificate attachments and training reports, helping you gain control over the professional development of your team.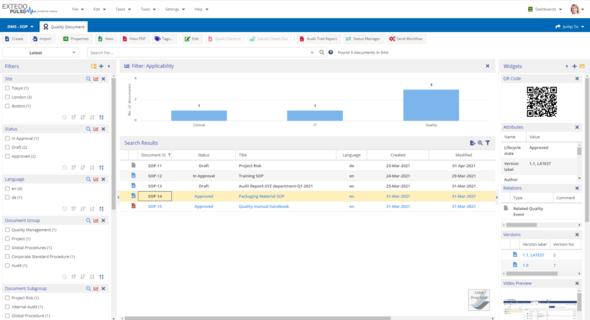 A solution for every quality challenge
EXTEDO's Quality Module gives you the tools you need to perform any quality control task from a single location. Sophisticated Root Cause Analysis tools help you drill down to the core of any challenge. Simultaneously, helpful Corrective Action and Preventative Action (CAPA) items make problem resolution a swift and seamless experience. Send change requests that are reflected throughout your organization for quick results, while detailed effectiveness evaluations indicate where you can optimize your processes.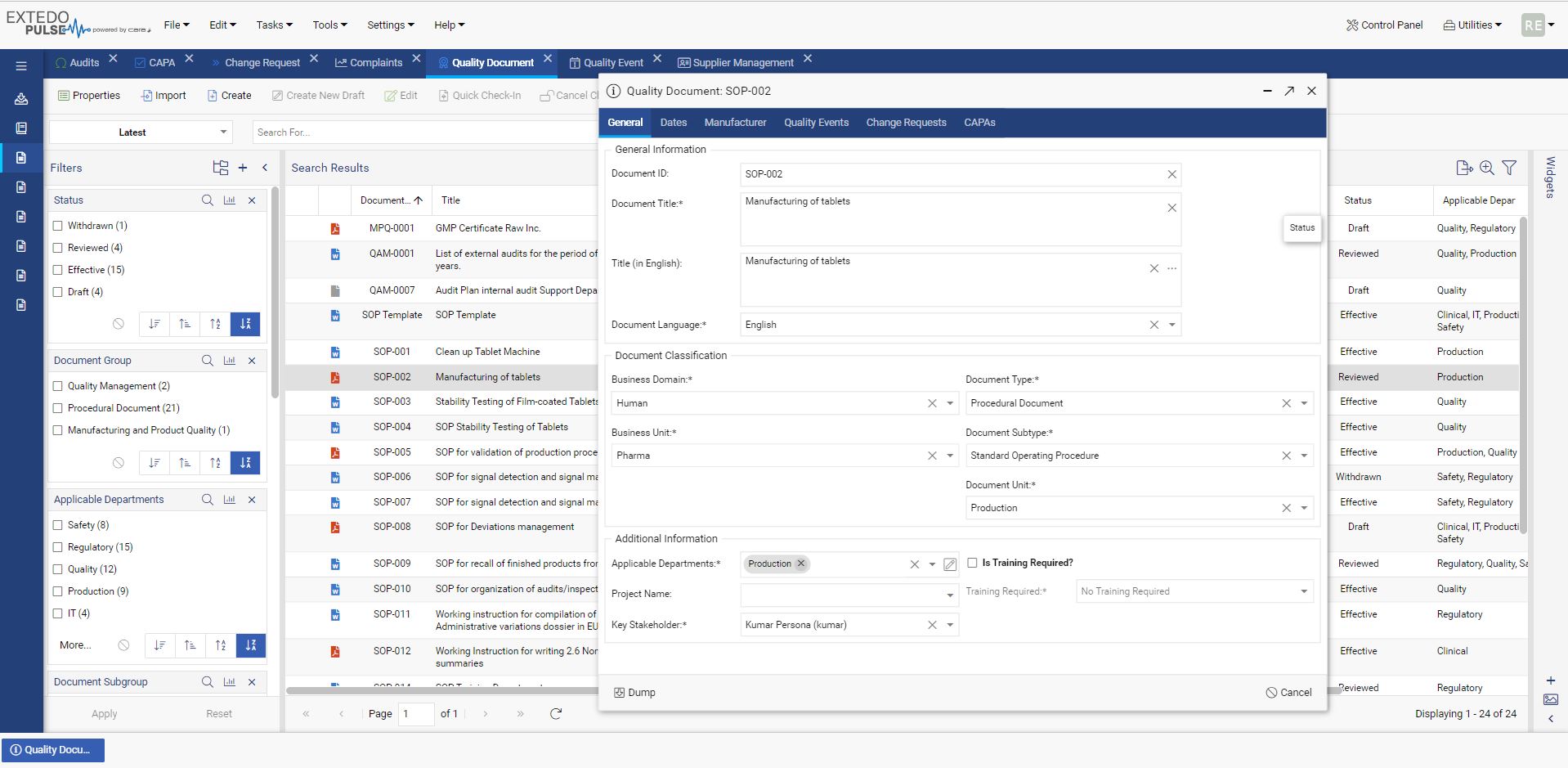 "EXTEDO is a great example of a company that really understands the requirements of the market."
Director Business Development, Technical Operations and international Business at Genericon
Your plan to effortless compliance
Schedule a call
We'll discuss your goals and uncover your challenges with managing your quality and SOP documents.
Get a free consultation
Our experienced business and technical team will outline a solution to solve your challenges.
Manage data and documents effortlessly
Manage your quality control documents effortlessly with unprecedented convenience.
Business Process and Regulatory Consulting Services
Tailored specifically to the needs of regulatory and related stakeholders, EXTEDO's business process and regulatory consulting services are designed to support you through the entire product lifcecycle. Through a series of workshops, our team of experienced consultants will establish your business needs, understand your processes, and help you to define the most appropriate implementation approach.
Education & Training Services
To ensure you get the most out of your purchased solution, we offer detailed training for each product within the EXTEDOpulse solution portfolio. Training sessions are tailored to your individual needs and cover a broad range of technical and regulatory topics. Designed to educate you on how to utilize your EXTEDO solution, our training sessions are conducted either in-house or onsite.
Technical Consulting
Purchasing a new EXTEDO application is the first step to streamlining business and regulatory processes within your organization. However, ensuring correct installation, implementation and integration is a crucial step in the process of deploying your new solution.
Validation Services
Successfully passing an audit from the regulatory agencies requires validated computerized systems. Our team of validation experts has an in-depth knowledge of life sciences business processes, ensuring a tried-and-tested method of system validation. By utilizing the risk-based approach to compliant GxP computerized systems defined within the GAMP 5 standard, we aim to reduce the time, effort, and cost associated with getting your systems up and running.