Network with Regulatory Experts and develop new business
Meet top speakers from Industry and Agency
Eurostars Grand Central Hotel Munich
The Eurostars Grand Central is a design hotel in Munich that follows the guidelines of the latest establishments opened in New York. It combines innovative architecture with bright colors like orange, red and lilac. Furthermore, it offers spacious, modern, designed guestrooms, in addition to the sauna, indoor pool, Jacuzzi and sunbathing roof.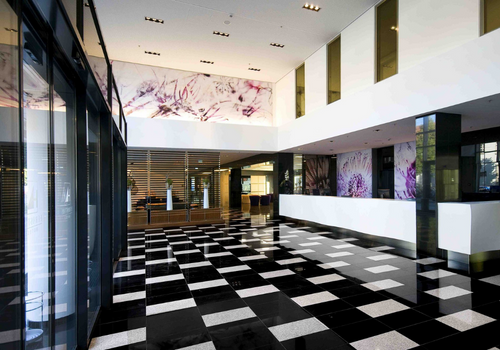 Hotel Rooms
The hotel provides 229 rooms, in addition to 8 suites and 10 apartments especially thought out for lengthy stays, in innovative design and maximum comfort, with wood flooring, extra-large beds and ultra-modern, giant-sized bathrooms (with separate toilets).
All the rooms are equipped with the most modern technological innovations. Air conditioning, AM/FM radio, minibar, safe security box, hair dryer, bathroom amenities, News Channels, Movie pay-per-view Channel, Desk, Plasma Screen TV, Wireless Access to Internet, Wake Up Call.
For more information on the available hotel room categories, have a look at the Eurostars Grand Hotel Munich website.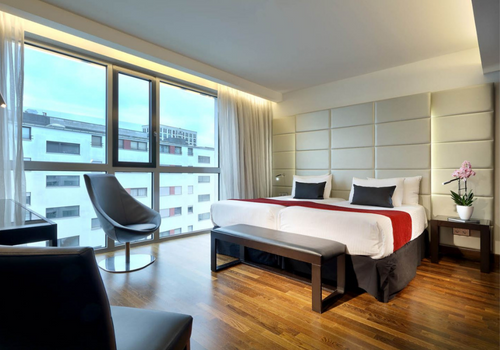 "EXTEDO's eRA Conference engages people, brings them together and really focuses on what is happening."
How to get to the Eurostars Grand Central Hotel Munich
Airport
The Munich Airport (MUC) offers direct connections to all major European cities.
A taxi from the airport is around € 80.
How to get to the Hotel
The best way to get to the Eurostars Grand Central Hotel is to take the S-Bahn (suburban train) to "Hackerbrücke". You can use both lines departing at the airport (S1/S8) for a direct connection. It takes about 45 Minutes minutes and is about € 13. From there, it is just a 5-Minutes walk.
Maps for download: S-Bahn Munich / Map Hackerbrücke-Eurostars
Address of the Hotel
Eurostars Grand Central Hote
Arnulfstrasse 35
80636 München / Munich
Germany
Please fill out the form below to register for eRA. You can find the terms and conditions for the event at the bottom of the form. For each participant, a separate form must be filled out. We are looking forward to your attendance!